Cultured Marble Vanity Tops
Hydros cultured marble vanity tops are available in two styles – classic oval bowl and contemporary wave bowl. All tops meet or exceed cUPC standards. Learn more about our cultured marble products below.
Classic oval bowl vanity tops come in 22" and 19″ depths. Color options include Solid White, White Swirl on White, and Vanilla Spice*. All oval bowl tops have a 4″ center faucet spread, 4″ backsplash, and integrated non-drip edge with overflow drain. Right and left side splashes are available separately for all oval bowl cultured marble tops.
Our wave bowl cultured marble vanity tops have a clean, contemporary look with a rectangular-shaped bowl and extra thick 1-5/8" profile. Wave bowl tops are 22" deep and come in the following widths: 25", 31", 37", 49", and 61" Double Bowl. These tops come in Solid White, have a 4″ center faucet spread, and include an integrated rectangle bowl with overflow drain. Available as flat top only – no backsplash, drip edge, or side splashes.
*Vanilla Spice is only available in 22″ depths. Solid White Cultured Marble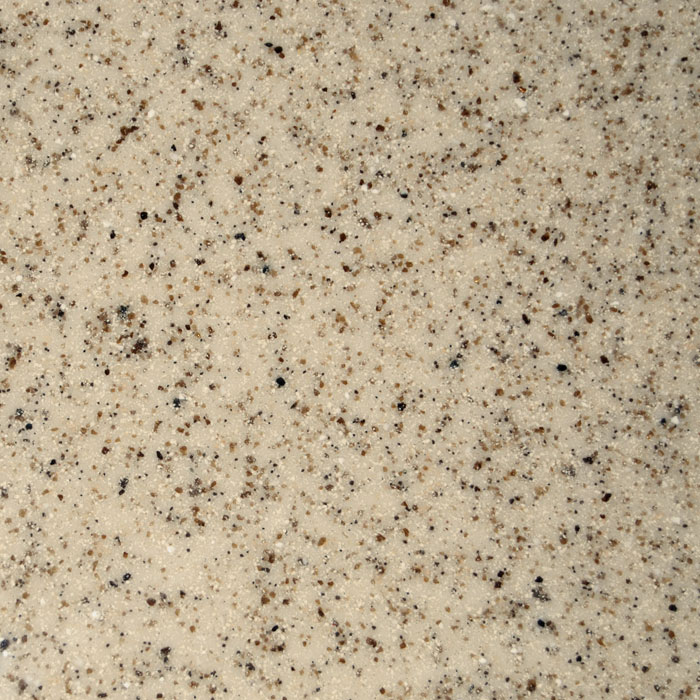 Vanilla Spice Cultured Marble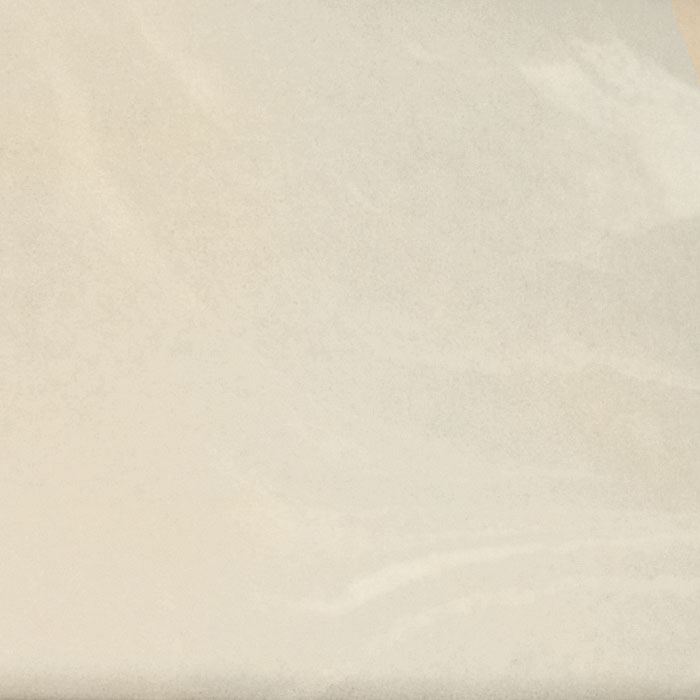 White Swirl on White Cultured Marble White Wave Bowl Cultured Marble
Solid White Cultured Marble

*Available in Classic Oval Bowl Style Tops Only

19" Depth Vanity Tops:
• SW1917 - 19″ D x 17" W Single Bowl
• SW1925 - 19″ D x 25" W Single Bowl
• SW1931 - 19″ D x 31″ W Single Bowl
• SW1937 - 19″ D x 37″ W Single Bowl
• SW1949 - 19″ D x 49″ W Single Bowl

22" Depth Vanity Tops:
• SW2225 - 22" D x 25" W Single Bowl
• SW2231 - 22" D x 31" W Single Bowl
• SW2237 - 22" D x 37" W Single Bowl
• SW2243 - 22" D x 43" W Single Bowl
• SW2249 - 22" D x 49" W Single Bowl
• SW2261SB - 22" D x 61" W Single Bowl
• SW2261DB - 22" D x 61" W Double Bowl
• SW2273DB - 22" D x 73" W Double Bowl

Vanilla Spice Cultured Marble

*Available in Classic Oval Bowl Style Tops Only

22" Depth Vanity Tops:
• VS225 - 22" D x 25" W Single Bowl
• VS2231 - 22" D x 31" W Single Bowl
• VS2237 - 22" D x 37" W Single Bowl
• VS2243 - 22" D x 43" W Single Bowl
• VS2249 - 22" D x 49" W Single Bowl
• VS2261SB - 22" D x 61" W Single Bowl
• VS2261DB - 22" D x 61" W Double Bowl
• VS2273DB - 22" D x 73" W Double Bowl

White Swirl on White Cultured Marble

*Available in Classic Oval Bowl Style Tops Only

19" Depth Vanity Tops:
• WW1917 - 19″ D x 17" W Single Bowl
• WW1925 - 19″ D x 25″ W Single Bowl
• WW1931 - 19″ D x 31″ W Single Bowl
• WW1937 - 19″ D x 37″ W Single Bowl
• WW1949 - 19″ D x 49″ W Single Bowl

22" Depth Vanity Tops:
• WW2225 - 22" D x 25" W Single Bowl
• WW2231 - 22" D x 31" W Single Bowl
• WW2237 - 22" D x 37" W Single Bowl
• WW2243 - 22" D x 43" W Single Bowl
• WW2249 - 22" D x 49" W Single Bowl
• WW2261SB - 22" D x 61" W Single Bowl
• WW2261DB - 22" D x 61" W Double Bowl
• WW2273DB - 22" D x 73" W Double Bowl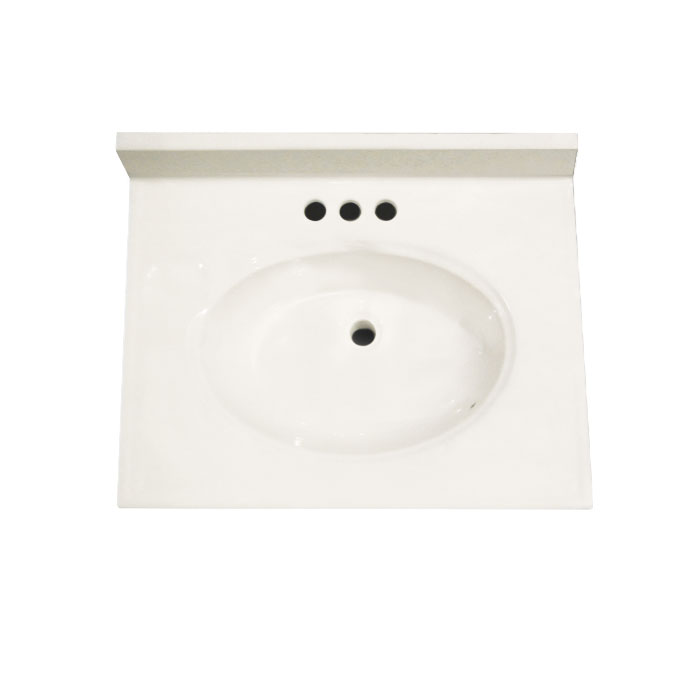 19″ Depth Single Oval Bowl Cultured Marble Vanity Top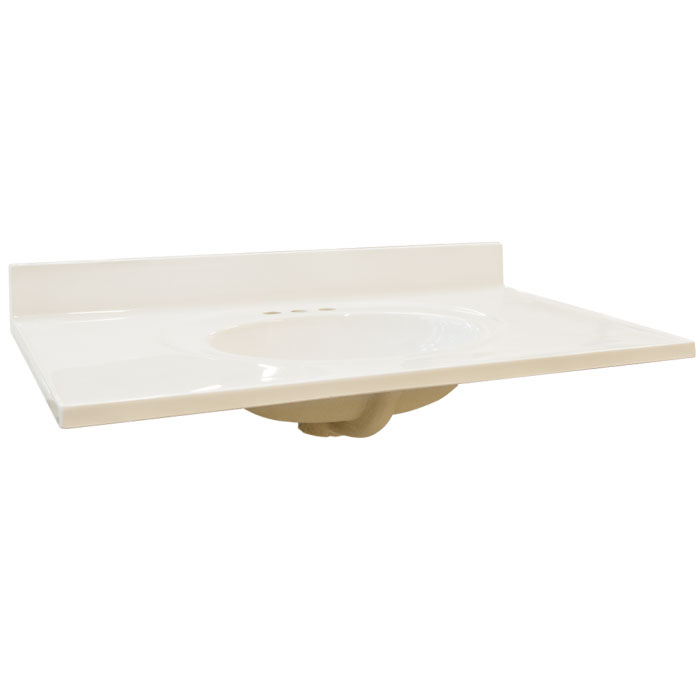 22″ Depth Single Oval Bowl Cultured Marble Vanity Top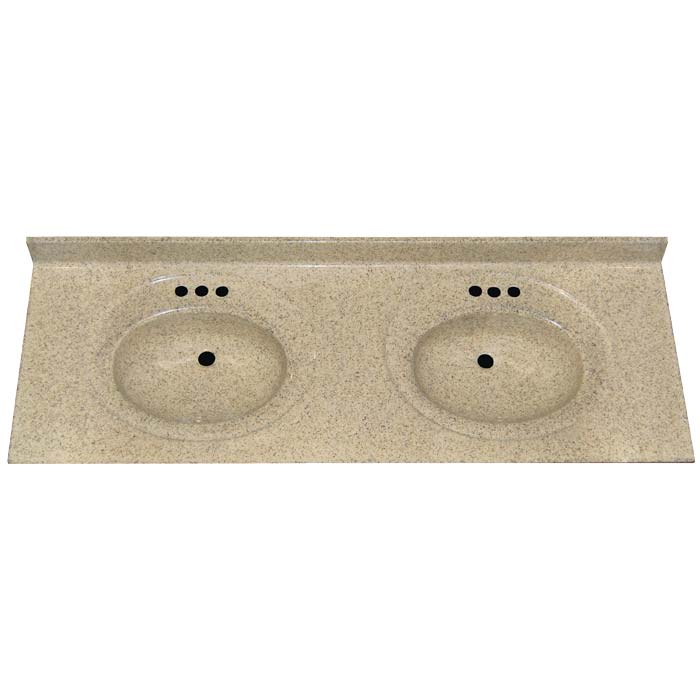 22″ Depth Double Oval Bowl Cultured Marble Vanity Top
19″ Depth Single Oval Bowl Cultured Marble Vanity Top

Size:
• 19" Deep
• 17", 25", 31", 37", and 49" Widths Available
Features:
• Beveled Oval Bowl
• Recessed Soap Dish
• 3 Hole Drilled 4" on Center
• 4" Backsplash
• Scratch Resistant Surface
• 1" Thick with No-Drip Edge
• Built-in Overflow
• Meets or Exceeds cUPC Standards
• Comes in Protective Sleeve Packaging
*Side Splashes Available For All Vanity Tops
**Manufacturer's Sizes & Specs May Vary

---

Color Options:
• Solid White
• White Swirl on White

22″ Depth Single Oval Bowl Cultured Marble Vanity Top

Size:
• 22" Deep
• 25", 31", 37", 43", 49", and 61" Widths Available
Features:
• Recessed Oval Bowl
• 3 Hole Drilled 4" on Center
• 4" Backsplash
• Scratch Resistant Surface
• 1" Thick with No-Drip Edge
• Built-in Overflow
• Meets or Exceeds cUPC Standards
• Tops Less Than 61" Come in Protective Sleeve Packaging
• 61" Tops Come in Heavy Duty Full View Box
*Side Splashes Available For All Vanity Tops
**Manufacturer's Sizes & Specs May Vary

---

Color Options:
• Solid White
• Vanilla Spice
• White Swirl on White

22″ Depth Double Oval Bowl Cultured Marble Vanity Top

Size:
• 22" Deep
• 61" and 73" Widths Available
Features:
• 2 Recessed Oval Bowls
• 3 Hole Drilled 4" on Center for Each Bowl
• 4" Backsplash
• Scratch Resistant Surface
• 1" Thick with No-Drip Edge
• Built-in Overflows
• Meets or Exceeds cUPC Standards
• Comes in Heavy Duty Full View Box
*Side Splashes Available For All Vanity Tops
**Manufacturer's Sizes & Specs May Vary

---

Color Options:
• Solid White
• Vanilla Spice
• White Swirl on White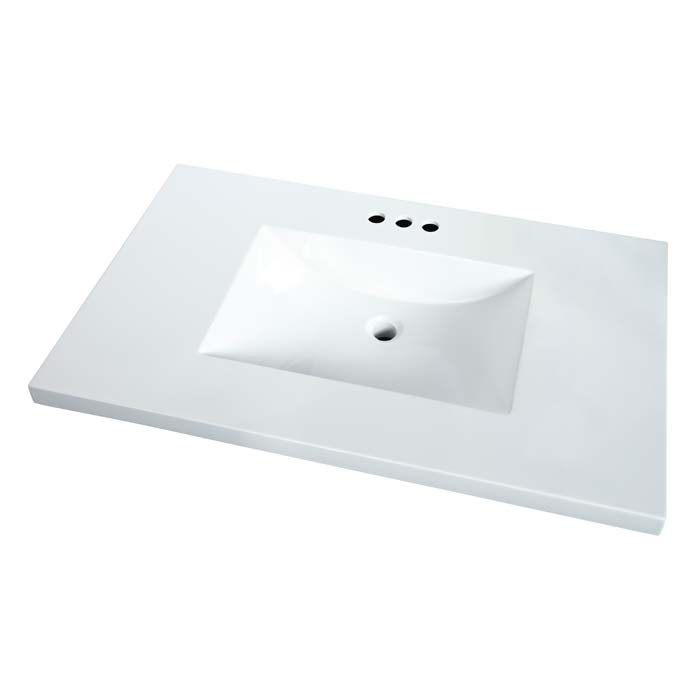 22″ Depth Single Wave Bowl Cultured Marble Vanity Top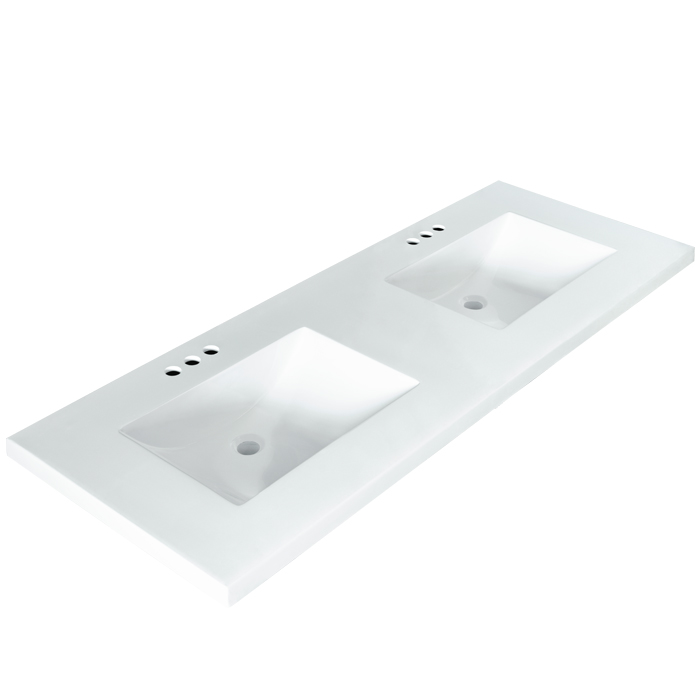 22″ Depth Double Wave Bowl Cultured Marble Vanity Top
22″ Depth Single Wave Bowl Cultured Marble Vanity Top

Size:
• 22" Deep
• 25", 31", 37", and 49" Widths Available
Features:
• Rectangle Wave Bowl
• Extra Thick 1-5/8" Smooth Profile
• Flat Top Only – No Backsplash, Sidesplash, or Drip Edge
• 3 Hole Drilled 4" on Center
• Scratch Resistant Surface
• Built-in Overflow
• Meets or Exceeds cUPC Standards
• Packaged in View Box
*Manufacturer's Sizes & Specs May Vary

---

Color Options:
• White

22″ Depth Double Wave Bowl Cultured Marble Vanity Top

Size:
• 22" Deep
• 61" Width Available
Features:
• 2 Rectangle Wave Bowls
• Extra Thick 1-5/8" Smooth Profile
• Flat Top Only – No Backsplash, Sidesplash, or Drip Edge
• 3 Hole Drilled 4" on Center for Each Bowl
• Scratch Resistant Surface
• Built-in Overflows
• Meets or Exceeds cUPC Standards
• Packaged in View Box
*Manufacturer's Sizes & Specs May Vary

---

Color Options:
• White